Legislators created a rule that insurers must follow if they want to underwrite risky policies borne by the state's insurer of last resort, Louisiana Citizens Property Insurance Corp.
The private companies required a letter grade of B+ or better from the leading rating agency AM Best – or equivalent. But state regulators, desperate to remove people from the public insurance plan, have been lenient in interpreting that rule, a Times-Picayune review found.
Twelve of the 18 companies that undertook Citizens' policies failed to meet the strict standards of the law. And six of the 12 have since failed, leaving thousands of insurance claims hanging in the balance.
Southern Fidelity has underwritten approximately 27,000 policies over a nine-year period, the most of any insurer. Access Home, Lighthouse Property and Maison Property also took advantage of the opportunity to quickly add thousands of new clients within a year of the companies' inception.
These four insurers took most policies from the state. Each also had an A rating from Demotech instead of the required AM Best rating. And all four companies have failed in the last year.
Separating policyholders from the public insurance plan was central to the state's plan to save Citizens from collapsing like it did after Hurricane Katrina.
Taking a cue from Florida, state legislators wanted to ensure that Citizens would not become the preferred insurer in Louisiana. They devised a plan that would allow Citizens to regularly send policyholders to any insurer that would accept them.
They hope for a repeat.
More than notes
The ratings are more than just obscure letter grades. They measure the probability that an insurer will default on its financial obligations.
"An A-minus is not equal to another A-minus, and it depends on the rating agency's methodology," said Jeffery Mango, AM Best's managing director of research. "But what you can look at are standard statistics."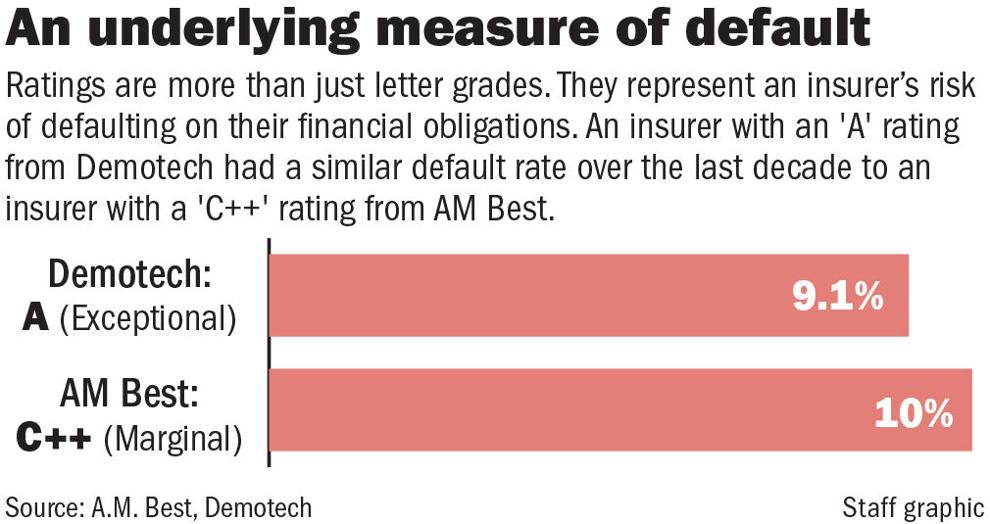 Companies rated A by Demotech have a 10-year default rate of around 9.1%. That means Demotech's A is closer to an AM Best C++ than a B+, according to data recently filed with the Securities and Exchange Commission.
The data shows insurance companies with an A rating from Demotech are four times more likely to fail than those with a B+ from AM Best — although Citizens treated the two ratings as equivalent.
Insurance researchers have long said that the financial stability ratings that rating firms generate have not been adequately studied. Although some have tried, three professors who study insurance science told The Times-Picayune there is no consensus because the data is often treated as a trade secret.
The industry got a new look at Demotech's ratings earlier this year when the company joined the Nationally Recognized Statistical Rating Organization. Membership is approved by the SEC; In order to be approved, rating firms must disclose the default rates of the companies they rate.
This data suggests that to be comparable to AM Best's B+, Demotech rated companies would need the highest rating of Demotech offerings: A".
The new statistics could reshape the way the depopulation program is being carried out.
"This will definitely trigger a discussion at the next board meeting," said Insurance Commissioner Jim Donelon.
Donelon, who is a non-voting member of the Louisiana Citizens board of directors, said board members had discussed changing the rating requirement in the past. He broke off by saying he supports raising the required minimum grade as it could limit the number of insurers participating.
In the past, Donelon said, ratings didn't dictate how many policies an insurer could write to Citizens. So even a low-rated company could take as much as it wanted.
"We have not given more policies to a higher rated company than to a lower rated company," Donelon said. "Someone might suggest that we should do that."
The rating game
Rating agencies use a variety of methods, and often confidential information, to determine whether an insurer is financially sound. Your rating of a company is similar to a test result. And each letter grade represents an underlying percentage that measures the likelihood that the venture will fail.
"That's essentially what these rating agencies do, but they don't let you look at those percentages," said Tyler Leverty, an insurance professor at the University of Wisconsin-Madison. "That's the secret sauce."
Insurers can play the system. You can look around for a rating that is the cheapest. If they don't meet a company's standards, insurers can choose not to publish the bad grade and go elsewhere.
Industry groups have attempted to reduce rating shopping by encouraging insurers to obtain two or more ratings. But in troubled insurance markets like Louisiana, regulators are reluctant to put up barriers for an insurer wanting to do business there, and companies can get away with just one.
The federal government's standard provides a way of judging one rating against another. The Federal National Mortgage Association and the Federal Home Loan Mortgage Corp., known as Fannie Mae and Freddie Mac, require minimum ratings for insurance companies wishing to sell policies with federally backed loans to homeowners.
For AM Best, it's a B; for Demotech it's an A.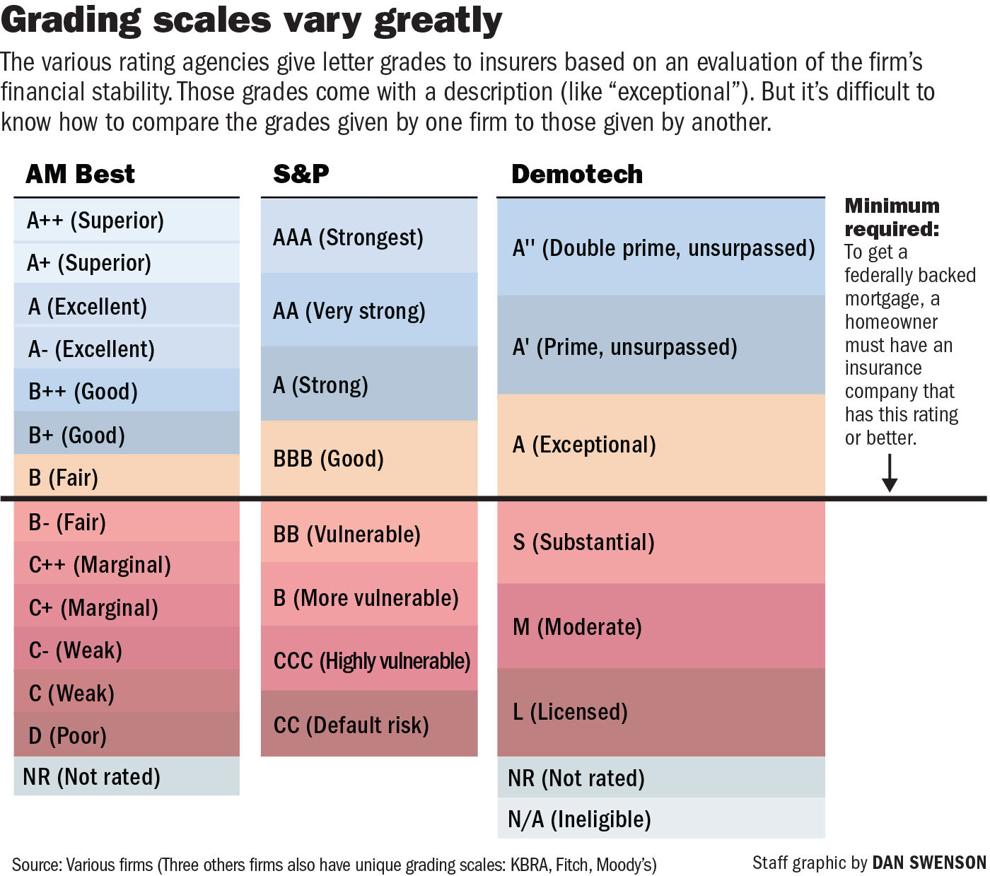 AM Best is considered the gold standard for ratings of insurance companies. Founded in 1899, the company rates insurers worldwide; its ratings often serve as a benchmark for federal programs.
Since the 1990s, newer insurers specializing in coverage for coastal homeowners have turned to Demotech as an alternative. The Ohio-based company is now playing a major role in the property insurance markets in Florida and, by extension, Louisiana.
"Most insurers want to be rated by AM Best," Leverty said. "Demotech is less used except by newer insurers who don't feel comfortable being rated by AM Best. or they do not believe that they will achieve the desired result."
Demotech's rating scale can be misleading. The vast majority of insurers it rates all receive different versions of an A, leading consumers to believe a company is highly rated.
Demotech rates nearly 100 property insurers operating in Louisiana.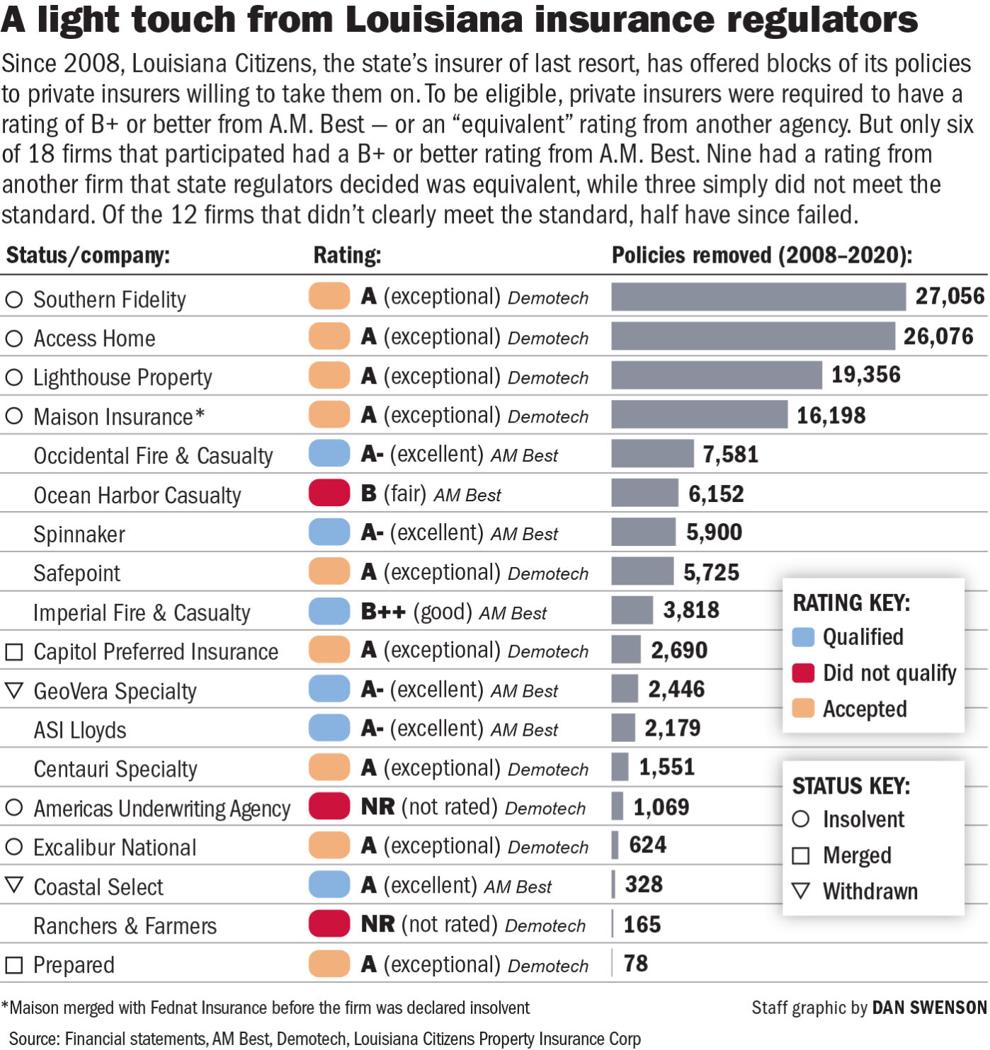 Trade one risk for another
Donelon was under pressure to strengthen the Louisiana insurance market and explain why his department didn't see a wave of bankruptcies on the horizon. He recently told state auditors that an internal investigation will focus on why the failed companies didn't buy enough reinsurance and whether they undervalued their services.
The depopulation program has been less scrutinized and whether it helped lay the groundwork for the collapse. Some lawmakers defend the program, emphasizing the benefits and downplaying the risks.
State Senator Kirk Talbot, R-River Ridge, chairman of the committee and a member of the Citizens board, said consumers are grateful for the cheaper insurance coverage they get when they leave Citizens. When an insurer fails, policyholders can rely on the state bailout fund, operated by the Louisiana Insurance Guaranty Association.
"At the end of the day, your claim will be paid," Talbot said. "I'd rather save thousands of dollars for 14 years than stay with Citizens."
A bill entered the legislature earlier this year that would have raised AM Best's minimum requirement to an A — or equivalent — but it never made it out of the Senate Insurance Committee.
Talbot said he does not support the bill because he fears many insurance companies will not qualify. He wasn't sure why the bill was being pulled by the sponsor, Senator Bret Allain, R-Franklin. Several attempts to reach Allain have been unsuccessful.
Donelon, who was elected Insurance Commissioner in 2006, has also not committed to increasing rating requirements. As the architect of the state's response to past and current insurance crises, his decision will likely be the most consequential of all.
His approach was shaped in the years after Katrina, when Citizens issued bonds to raise nearly $1 billion to settle unpaid debts. As a result, every property owner in the state is charged an annual fee to pay off the debt. The bonds will not be paid out until 2026.
But his concerns haven't entirely shifted to the new threat: weak insurance companies.
"We can raise financial strength ratings at any time," Donelon said. "The more we do, the fewer companies will buy Citizens' policies. That will then put (them) at risk for the assessment of everyone with property insurance – residential and commercial – nationwide."