MESSAGES | FEATURES | PREVIEW | EVENTS
Originally published: 11/24/2022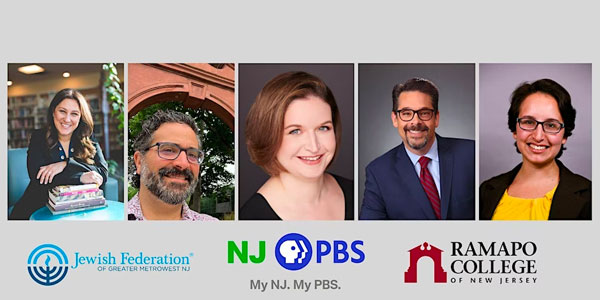 (MAHWAH, NJ) – Join the Ramapo College of New Jersey on Thursday, December 1 at 4:00 p.m. for an important conversation about the recent documentary. The United States and the Holocaust, directed by Ken Burns, Lynn Novak and Sarah Botstein. This event, presented via Zoom, is free and open to the public. Register in advance here.
Organized and hosted by NJ-PBS in partnership with the Gross Center for Holocaust and Genocide Studies at Ramapo College of New Jersey and the Jewish Federation of Greater MetroWest.
Moderated by Ilyse Shainbrown, Director of Holocaust Education at the Jewish Federation of Greater MetroWest, the panel discussion will feature Dr. Jacob Ari Labendz, director of the Gross Center for Holocaust and Genocide Studies at Ramapo College of New Jersey, Dr. Rebecca Erbelding, historian, educational initiatives such as the US Holocaust Memorial Museum, Rabbi Matthew Gewritz, Senior Rabbi of Cong. B'nai Jeshurun ​​​​in Short Hills and Rebecca Kirzner, Senior Director of Grassroots Organizing and Advocacy at HIAS (originally the Hebrew Immigrant Aid Society).
The United States and the Holocaust is a three-part, six-hour series examining America's response to one of the greatest humanitarian crises of the twentieth century. Americans consider themselves a "nation of immigrants," but as the catastrophe of the Holocaust unfolded in Europe, the United States showed itself unwilling to open its doors to more than a fraction of the hundreds of thousands of desperate people who sought refuge. Through compelling first-hand testimonies from witnesses and survivors who endured persecution, violence and flight as children as their families tried to escape Hitler, this series delves deep into the tragic human consequences of public indifference, bureaucratic bureaucracy and restrictive quota laws in America . Has the nation failed to live up to its ideals? This is a story to be reckoned with.
Inspired in part by the United States Holocaust Memorial Museum's exhibition "Americans and the Holocaust" and drawing on its historical sources, the film examines the rise of Hitler and Nazism in Germany in the context of global anti-Semitism and racism, the eugenics movement in the United States States States and race laws in the American South. Written by Geoffrey Ward, the series illuminates what the US government and people knew and did as the disaster unfolded in Europe.
Advertise with New Jersey Stage for $50-$100 per month. Click here to get more information
---
Combining the first-person narratives of Holocaust witnesses and survivors and interviews with leading historians and writers, The United States and the Holocaust dispels competing myths that Americans either were unaware of the untold persecution Jews and other targeted minorities were facing in Europe, or they looked on with callous indifference. The film addresses a range of issues that remain fundamental to our society today, including how racism affects immigration and refugee policies and how governments and people respond to the rise of authoritarian states that manipulate history and facts in order to to consolidate power.
Advertise with New Jersey Stage for $50-$100 per month. Click here to get more information
---