MESSAGES | FEATURES | PREVIEW | EVENTS
Originally published: 11/24/2022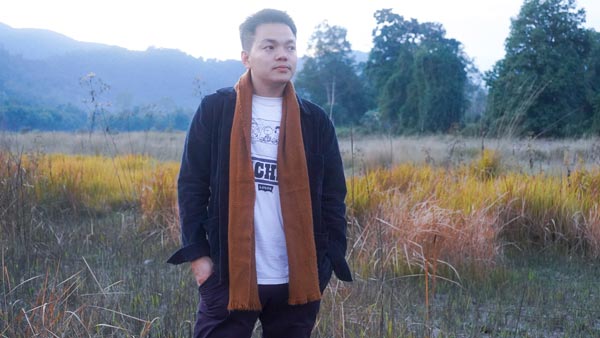 Takar Nabam is a singer-songwriter and guitarist from Itanagar, Arunachal Pradesh, India. His music is a mix of pop, rock, jazz, R&B, indie and singer-songwriter. In terms of mood, he finds his music dreamy, romantic, nostalgic. The Penguin Rocks presents this interview with Takar Nabam.
Arunachal Pradesh, home to more than 26 different tribes and sub-tribes, borders China, Myanmar and Bhutan. Before living there he was in New Delhi for about 2 decades and was an active part of the Delhi Indie Music Scene there for about a decade. He says he was mostly a guitarist and started writing songs around 2013-2014. Since then he has been writing, singing and performing his own music.
He mainly writes songs about life and love but sometimes tries to write about social issues that are rampant in Arunachal Pradesh, India like polygamy, child labor etc. Although there have been some tremendous improvements in recent years, he believes there is still a long way to go. Here is a song he wrote in his native dialect, the Nyishi dialect.
He also wrote a song about love that was beautifully interpreted in the context of a dog. In this case Laika, the first dog to be taken into space.
Advertise with New Jersey Stage for $50-$100 per month. Click here to get more information
---
tell me your name
My name Takar means "star" in the Nyishi dialect of Arunachal Pradesh, India. I'm not sure I've lived up to my name anywhere, but I'm trying! I'm a solo artist performing under my name.
How long have you been making music?
I've been playing and making music for a while. I wrote, recorded and released my first album, Same sky, in 2016. I have been actively performing and releasing music here in India since that time. I have had the opportunity to perform at well known festivals such as Ziro Festival, NH7 Weekender, Orange Festival to name a few.
Do you sometimes work with other artists?
I usually hire session artists to play with me. It mostly depends on who's available at the time, but I prefer to work with some that I've been writing and playing with for a while now. They are Aveleon Vaz (drums), Steve Peter (bass) and more recently Ron Cha (keys/synth), Toko Teji (drums), Nisham Pul (bass).
Tell me about your latest record. Which songs are you most proud of? Recording?
I think my latest EP Red and yellow was well received by my fans. For many of them it was something completely different, but they appreciated it compositionally and production-wise because it sounded fresh and contemporary. The EP also contained sounds from a folk instrument from the Himalayas, dramayin, which surprised many of my fans as I had never done this before. It was also a pretty exciting experiment for me as an artist and I'm glad it turned out very well! listen Red and yellow on Spotify
One of the songs closest to me is ash, which grew out of a tragedy that me and my family went through in 2019 when our home was set on fire by an angry mob. It was one of the most turbulent times of my life.
Advertise with New Jersey Stage for $50-$100 per month. Click here to get more information
---
I also worked on a lot of the visuals for the EP. One of the music videos was dedicated to the first space dog, Laika, and it caught the attention of many dog ​​lovers. I am a dog lover myself.
Watch the video of a man playing the dramayin and tells his story.
How many records, eps or singles has the band released in total? How did the music changed over time?
I have released 2 albums and one EP so far. I like the idea of ​​evolving over time and I'm always looking for ways to incorporate my newer influences as creatively as possible. You can listen to my discography on Spotify.
What was one of your favorite gigs? What made it unforgettable?
One of the most memorable performances for me was at the 2016 Ziro Festival of Music. This was the first time I performed my music live in front of such a great audience. The best thing about the gig was that the love of my life, who was my girlfriend at the time, sent me a romantic letter that was handed to me by her close friend just before I got on stage. It definitely helped quell all that jitters and made that first performance so much more meaningful! Here is a short video of that performance (since this was my first performance with my solo project, forgive my sloppy vocals!)
Where do you regularly play shows? Where would you like to play if you could?
I have played mainly here in India including some of the most notable festivals here like Ziro Festival of Music, NH7 Weekender, Orange Festival to name a few. I was also fortunate to have played outside of India. I've played in Myanmar, Bhutan and also in New York. I like to play in smaller halls of 50-100 people as I feel it's a lot easier to connect with the people who are there to listen. I would like to play some bigger places with my band as well. Some of the venues that come to mind are Red Rocks, Bowery Ballroom, Wilton's Music Hall, Thalia Hall, Brixton Academy, The Lexington to name a few.
Before releasing my latest EP, Red and Yellow, which was very heavily synthesizer and key driven, I performed in a trio line-up. It is definitely one of the most challenging yet fun environments. Here is a video of my trio performing at the Zero Festival Of Music.
What would be the "next step" you would like to take?
I would like to plan an EU and US tour with my band one day. I know it's a bit far-fetched at this point, but I'd be interested in working towards making it a reality. In the meantime I will continue to work on writing, releasing and promoting more new music that I have written. I'd love to explore options for dubbing placements and collaborations with artists I really like and doing more shows this year.
At the end you play some cover songs. If so, which artists do you cover? who is there an artist you haven't covered that you would like to cover?
I don't usually play covers during my gigs, except on a few rare occasions. I covered 'Who Did You Think I Was' by the John Mayer Trio whenever I played with my trio. I love covering John Mayer's Neon, especially when I'm playing solo. Here is my rendition of it.
You can continue to follow Takar Nabam Facebook, Twitter, YouTube, Spotify, Bandcamp, SoundCloud, and Instagram.