MESSAGES | FEATURES | PREVIEW | EVENTS
Originally published: 11/22/2022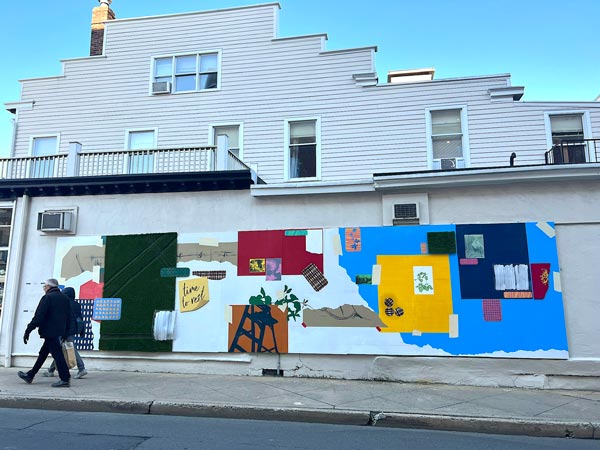 (PRINCETON, NJ) — The Princeton Arts Council (ACP) recently unveiled a new community mural in Downtown Princeton titled somatic break. Designed and installed by artist Dave DiMarchi, this immersive, multimedia public artwork sits on the side of Village Silver on Spring Street.
Designed from both the artist's workplace and the prints he created during his current ACP Anne Reeves Artist-in-Residency, somatic break invites Princeton to reflect on the transformative power of stillness and how time changes each of us.
somatic break – an installation covered with wheat, painted and collaged – is an ephemeral. Meant to change over time, the mural will endure harsh winter weather, early spring rains and harsh sun, each doing their own work to fade, soften, crack and mar its surface. Change is the constant.
Dave DiMarchi is a queer, multidisciplinary printmaker and artist working in printmaking, papermaking, and sculptural bookforms. He engages in a tireless practice of materials, nurturing ideas in single and limited works. A multidisciplinary artist, he has exhibited works on paper, installations, and books in the United States and internationally. He maintains a small collaborative studio and art space in New Hope, Pennsylvania, and teaches printmaking, papermaking, and bookforms extensively throughout the New York, New Jersey, and Pennsylvania area. In the fall of 2022, he was named ACP Artist-in-Residence, which will allow him to continue exploring collage-based multimedia and print work.
This is the ACP's eighth rotating mural on Spring Street. In July 2020, with most of the city shut down due to COVID-19 regulations, the Arts Council team painted their first mural on this site. stronger together, as a message of support and solidarity. Since then, the rotating approach has allowed the ACP to showcase local artists, making Spring Street a new destination to enjoy colorful and thought-provoking public art.
Advertise with New Jersey Stage for $50-$100 per month. Click here to get more information
---
DiMarchi's work will be on display on Spring Street until Spring 2023, when a new mural will take its place.
The Princeton Arts Councila non-profit organization founded in 1967, fulfills its mission Community building through art through the presentation of a wide range of programs, including public art projects, exhibitions, performances, free community cultural events, and studio-based classes and workshops. Arts Council of Princeton programs are high quality, engaging, affordable and accessible to the diverse population of the greater Princeton area.
Advertise with New Jersey Stage for $50-$100 per month. Click here to get more information
---