Friday, November 25 marks the one-year anniversary of the New Jersey Devils' claim Nathan Bastian — a player they drafted in 2016 and lost to Seattle in the 2021 expansion draft — on waivers from the Kraken.
"We were sad that he left, but that's how business goes sometimes. We were definitely thrilled when we knew he was coming back," said the Devils captain Nico Hischier said Pucks and Pitchforks recently. "He's playing incredibly for us and when we win the line he's on is a big part of that. They play right, set us up (for success) and play the way they can. That makes us fit and that's why it's always a full team effort."
Hischier grinned and laughed a bit when we asked him if he was happy that he only has to face Bastian in training and not in the game. "Really frustrating (to play against)," said the captain. "Their line is fast, strong and they play basic hockey. 100% glad he's on our side."
Bastian has been an NHL starter since the 2020-21 season when he appeared in 41 games. Last season, he played 72 games between Seattle and New Jersey, posting career-best goals (12) and points (18). Admittedly, that's not what he's really here for, but it doesn't hurt his cause if he can score a goal or two in a big moment.
I recently spoke to 24-year-old Bastian, reminded him that the anniversary of his return to New Jersey is approaching, and asked if he was thinking about it. We all know that a lot can happen in a year. Some things fall through the cracks, but I think he was very honest and genuine in his answers to my questions about the situation.
"I think about it more than you probably think. I'm so thankful to be back (in New Jersey). Being on a team that respects you and uses you (on a nightly basis). Now I'm at a point where I just have to give everything to get better," said Bastian.
He went on to mention how he understands the business side of things and has no ill intentions or bad things to say about the decision to expose him in the draft expansion. I got the impression that when he saw the other names that New Jersey didn't protect, there was no way he thought the Kraken would lay claim to him before them.
"To be honest, I was really disappointed. I feel lucky. I've always had a decent head on my shoulders and I'm realistic about things," he explained. "When I saw the names and the number of guys they could protect, there wasn't a good chance (they would protect me). Not so much Tom (Fitzgerald) leaving me exposed; that's part of the gig. There were mixed feelings about being the guy Seattle picked."
From then on, his life became a bit of a whirlwind. He had to move to the other side of the continent, meet a whole new coaching staff and teammates, and be separated from the group he had worked with for years. It all hit him at once, almost as the reality of the offseason situation set in.
"It's difficult. You move everything you have and your closest family is across the country. It's not an easy step, you go over there and small things become big things," Bastian told us. The time zone is different. You're getting used to a whole new group of teammates, it was raining every day. And then all of a sudden I stopped playing, so there were all these hurdles I had to overcome. It kind of worked out – and I did am so thankful for that."
As luck would have it, Bastian returned to rock with the Seattle Kraken on October 19, 2021 before the Devils brought him back to their team, and in his opinion, that was one of the weirdest parts of this whole experience that he'd endured.
"It was hard to come back here to play. It's not like I'm an older guy who's been here for many, many years. But I've been part of this organization for a while and a lot of these guys are like my best buddies," said Bastian. "So come back and play them — part of you wishes you were on the other side — when you play them," he said, laughing. "So I feel really fortunate that things turned out the way they did."
I also asked one of the newer devils Brendan Smith, via Bastian. He is a player who had played against no. 14 in the past and maybe even had a collision or two with him. So I was curious to see what first impressions Smith made as his teammate during training camp and the first 20 games of the current season.
"I'm a big fan of Nate's. I think off the ice he's a loud guy and great in our room, a team first guy. I love those things," Smith said with a smile. "They make me want to be a part of hanging out with a guy like him. He does all the right things on the ice – he turns, he hits and he has a big body. He has great skills for a big man and skates well."
"Nate kills penalties; He plays on our power play. You see this BMW line – if we call it that – they are closing big lines and they are creating big goals for us. I'm a big fan of his and I think we're lucky to have him."
As he said, Bastian is happy that things went the way he wanted. As we all know, life is not always like this. Things don't always go the way we think or plan. When the Devils got off to a scorching start this season and set a franchise record with a 13-game winning streak, maybe one of them is enjoying things a little more than the others because he could easily have been elsewhere for it.
"I'm very excited. We have a passionate fan base, our organization – and management understands it – when you have these high picks, everyone wants it (success) to be rushed and that's not how it works," said Bastian. "You've seen the excitement of having Nico and Jack (Hughes) called up, but it doesn't happen in year one, year two or even year three. It gets to a point where these guys are ready to come around the corner, they lead by example and now they have."
"They talk about how far this team can go – I think the sky's the limit for some of these guys and together we're just scratching the surface."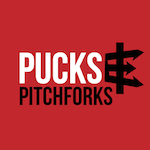 Do you want your voice to be heard? Join the Pucks And Pitchforks team!
Write for us!
Well, if a long winning streak like the one that's just begun is just scratching the surface, then Devils fans will have plenty to cheer about in the near future. And probably Nate Bastian will play a big part in it.